There are many ways for individuals, companies and foundations to contribute to Regina Health Center to support our mission of caring for the religious and laity in a loving, God-centered home, including through our secure online donation form.
Some of these giving options include:
Gifts of cash or appreciated securities
Will bequests
Regina Health Center Charitable Gift Annuity
Trusts/ Savings bond beneficiary designations
Retirement asset and life insurance beneficiary designations
For a more in-depth look at making a gift that really makes a difference, please review our Charitable Giving Option brochure. Planned giving is a powerful way to make a gift that at first blush may seem beyond reach. The brochure provides details about many of these special planned giving techniques.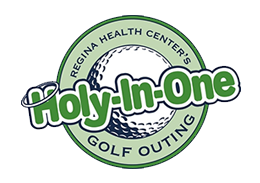 The Holy-In-One Golf Outing is the largest fundraising event for Regina Health Center. The support provided by many generous sponsors, donors and participants during this event is essential for our mission of caring for the religious and laity in a God-centered home.
ONLINE
MAIL
Please make your check payable to Regina Health Center and mail it with the attached form to the address below. Your gift will be acknowledged and receipted for tax purposes.
Regina Health Center
5232 Broadview Road
Richfield, Ohio 44286-9608
PHONE
For more information about giving opportunities or to give your credit card information over the phone, contact:
Colleen Corrigan Day
Director of Mission Support and Donor Relations
Direct dial: 330.659.5132
CDay@ReginaHealthCenter.org 
For more information on philanthropic support of Regina Health Center, please contact:
Colleen Corrigan Day
Director, Mission Support and Donor Relations
Direct dial: 330.659.5132
Cheryl Dolego
Donor Services and Event Coordinator